"I personally use and trust the ALCAT Food Sensitivity Test for my own health. It has been a valuable resource tool throughout my Hashimoto's and Celiac journey. I recommend it to all my clients and I know it will be valuable information for you too."
Shannon Garrett, BS, RN, CHLC, CNN
Autoimmune & Thyroid Wellness Nurse, Certified Functional Nurse-Nutritionist
AVOID INFLAMMATORY REACTIONS WHICH MAY LEAD TO CHRONIC HEALTH PROBLEMS



Are foods making you sick? Inflammation and chronic activation of the immune system due to food intolerance issues has been linked to an array of health issues including autoimmune & thyroid conditions, diabetes, digestive disorders, migraines, obesity, chronic fatigue, ADD/ADHD, joint pain, arthritis, and many more.



THE ALCAT TEST IS THE MOST EFFECTIVE FOOD INTOLERANCE TEST AVAILABLE TODAY
TESTING FOR REACTIONS TO OVER 350 FOODS, HERBS, AND CHEMICAL AGENTS
ALCAT is not testing for food allergies; instead, the test helps to identify food intolerance issues, which are far more common and generally take longer to show up than do food allergies. The ALCAT test is the most effective food intolerance test available, identifying your cellular reactions to over 350 different foods, chemicals, food additives, functional foods, herbs, and mold. Using the results of this test, we can identify the root causes of symptoms and chronic health issues you may be experiencing, helping you to avoid exposure to sources of negative symptoms and reactions to foods that are triggering even low level inflammation in your body.
The ALCAT Test is more effective than standard Immunoglobulin G (IgG) testing because they rely exclusively on one immune pathway: serum levels of IgG. High food specific IgG titers are indicative only of exposure, not necessarily of intolerance. Therefore, high frequency of consumption or overexposure may lead to false positive test results.
Alcat Test Panel Components
Comprehensive Platinum Plus
357 ITEMS TESTED: 237 Foods, 50 Functional Foods & Medicinal Herbs, 20 Food Additives/Food Colorings, 10 Environmental Chemicals, 20 Molds, and 20 Antibiotics & Anti-inflammatory Agents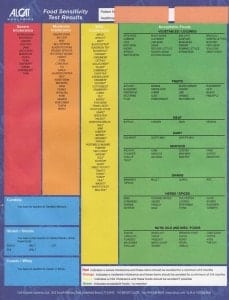 Sample Report[/caption]
How it Works
View the video

1. Upon completion of your order you will be sent a test kit.
2. Once the kit arrives you will need to set up an appointment for your blood draw with Any Lab Test Now in your area or with the ALCAT private mobile phlebotomy service to come to your home or office.
3. The phlebotomist who draws your blood will take care of packaging and shipping it to the laboratory. Please be sure to take your test kit with you as it includes collection vials and shipping details & packaging.
4. Results will be mailed/emailed to you.
5. After receiving the results you will get a free 30 minute phone consultation with an ALCAT nutrition consultant who will help you with making changes to your diet.
6. You will have the option to work with Holistic Thyroid Care as well to determine an appropriate and customized care plan to help you meet your goals. If you are interested in working with Shannon be sure to check her online calendar to review options available and to schedule a telephone or Skype appointment.
What is food sensitivity?
The inability to tolerate foods and environmental factors, also known as sensitivity or intolerance, induces chronic activation of the innate immune system and gives rise to inflammatory processes, which includes excess production of reactive oxygen species and the release of preformed and newly synthesized mediators of inflammation.
This inflammation has been linked to countless chronic conditions, including: digestive disorders, migraines, obesity, chronic fatigue, ADD, aching joints, skin disorders, arthritis and many more.
How does food sensitivity differ from classic food allergies?
True food allergies refer to foods that trigger the immune system to acutely produce massive amounts of the chemical histamine that leads to anaphylaxis. This potentially fatal condition causes the throat and esophagus to swell, cutting off air from the lungs, or may simply cause hives, skin rashes, and other non-life-threatening reactions.
This type of reaction is called a type I hypersensitivity reaction, caused by the degranulation of mast cells or basophils that is mediated by Immunoglobulin E (IgE).
Bottom line: This test gives you a huge head start in your healing process. Even in the rare event that you have no food sensitivities, you will know for sure that you don't and can stop wasting your time and effort wondering if food and chemical sensitivities are contributing to your problems.
ABOUT ALCAT
Located in Deerfield Beach, FL, Cell Science Systems Corp. is a FDA-inspected and registered, cGMP medical device manufacturer and operates a CLIA-certified laboratory.
CSS, provider of the ALCAT Test, offers high quality laboratory testing to healthcare professionals and patients using state of the art proprietary technology. We will continue to broaden the understanding of food & chemical sensitivities through various international research projects and clinical trials. CSS offers an extensive and growing product line supported by nutritional consulting and quality client service support.
The ALCAT Test is NOT an "allergy" or IgE test. The ALCAT is the most effective and comprehensive sensitivity/intolerance test available.The test identifies reactions to over 350 foods, chemicals and other substances associated with inflammation that are linked to chronic health problems like migraines, aching joints, fatigue, gastrointestinal disorders, eczema, hyperactivity/ADD, asthma and even obesity.
Our goal is to provide clients with accurate, timely and dependable test results and nutritional support services. The Customer Care Team is available to answer your calls from 8am to 6pm, Monday - Friday. We are more than happy to advise you in choosing the appropriate test panel as well as assist you with any other questions before or after taking the test.
WHY ALCAT is the BEST CHOICE

In 2008 over 24 million adults and children in the United States were suffering from diabetes and over 64 percent of adults were overweight or obese.
According to the United States Department of Agriculture, it is estimated that over 34 million people in the United States have food sensitivity.
According to the Mayo Clinic, as many as 1 in 5 people have Irritable Bowel Syndrome (IBS), yet fewer than half seek medical attention.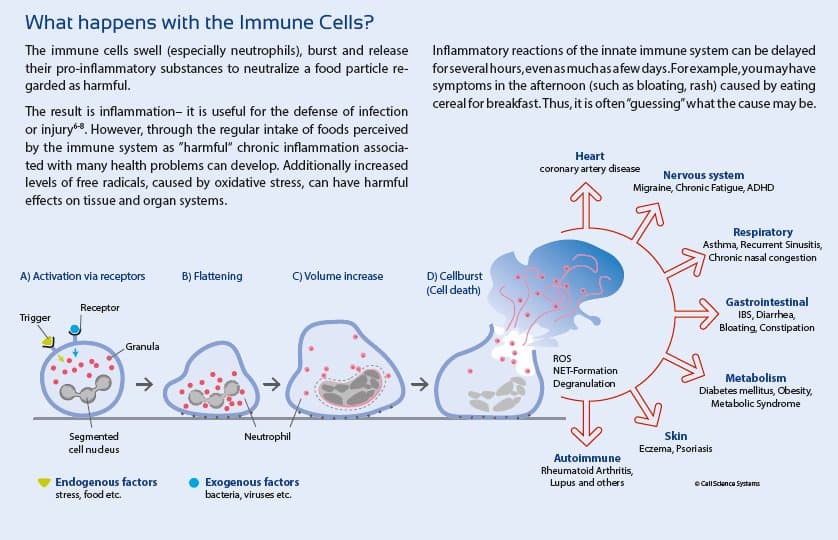 $1,500.00
$900.00
The Platinum Plus Panel Includes:
237 Foods
50 Functional Foods
30 Food Additives/Colorings
10 Environmental Chemicals
20 Molds
20 Antibiotics/Anti-inflammatory medications



Thank you so much! I am so pleased with Shannon - she made ordering my Alcat test kit easy to purchase and timely. I received my kit in just a couple of days and the results in less than a week!

Lely M.
Uncover food and chemical sensitivities with the ALCAT Test
The ALCAT Test may help uncover which foods and other substances trigger chronic inflammation and its related health issues such as gastrointestinal, autoimmune disease, metabolic disorders and others.
The ALCAT Test measures cellular reactions to over 450 substances.
Medical studies using the ALCAT Test to guide diet have shown significant improvement of many common symptoms.
To date, the ALCAT Test has helped over half a million people change their health.
One Simple Blood Draw

With a one-time blood draw, over 450 individual foods, additives, colorings, biological and chemical substances can be screened.

Clear Test Results

Alcat Test results include an easy to read color-coded test report classifying tested items according to degree of cellular reactivity. Included with each report is a wallet-sized test results card, Foods to Avoid list, food rotation plan (when testing 100 foods or more) and a comprehensive Understanding your Alcat Test Results patient guidebook.

Optional: One on one complimentary, phone based, test review consultations are available for you and your patients with a nutritional counselor at Cell Science Systems.

Committed to Quality

Cell Science Systems, Corp. is a specialty clinical laboratory that develops and performs laboratory testing in immunology and cell biology supporting the personalized treatment and prevention of chronic disease. Cell Science Systems, Corp. operates a CLIA certified laboratory and is an FDA inspected and registered, cGMP medical device manufacturer meeting ISO EN13485 2012 standards.

Cell Science Systems fulfills high quality standards in accordance with state, federal and international regulations.

CLIA-ID#10D0283906
CE Marked. TUV Certified and safety monitored
Supported by the EU and the State of Brandenburg
ISO 13485:2003 + AC:2012
Good To Know
The Alcat Test has been independently evaluated and demonstrates a high degree of benefit. 9-11 Positive results related to a broad range of symptoms have been reported in numerous studies. Research is currently ongoing with universities in the United States and Europe.