Are you ready to learn the SECRETS to managing
Hot Flashes AND Hashimoto's?
Get instant access to As We Change: Hashimoto's & Hot Flashes quick start guide AND access to our life-changing members only portal, where we've got you covered on "all things related to Hashimoto's and Women's Health" plus special perks you won't see anywhere else. This is the most comprehensive and detailed program Shannon has ever created.
For many women with Hashimoto's, menopause shall we say "presents an extremely unique set of challenges." Since the symptoms of both are often similar, it can be confusing what to do next. You may be thinking "is this menopause or are my Hashimoto's symptoms getting worse, or both? If you find yourself feeling scared, alone, frustrated, irritated and aggravated, DOWNLOAD THE GUIDE. It'll help you get started on a positive path and you'll notice progress in the way you feel!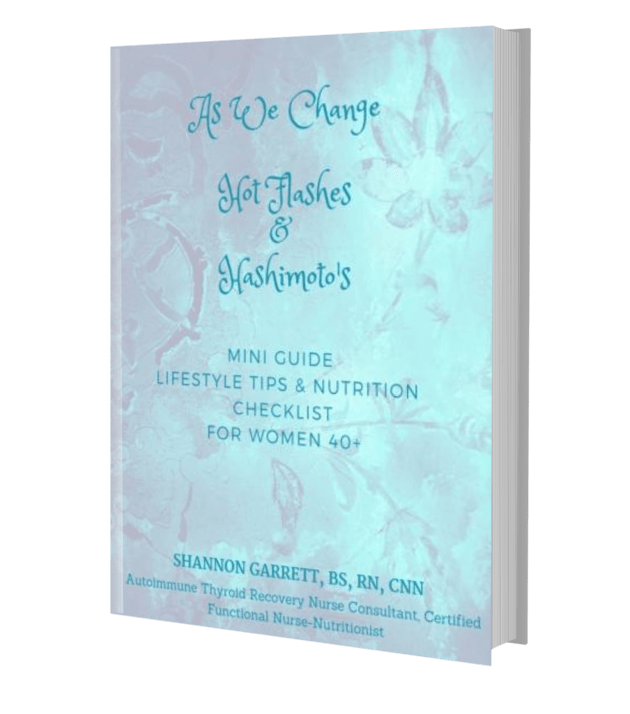 We value your privacy & promise to keep your email safe
DON'T LET HOT FLASHES & HASHIMOTO'S
ROB YOUR JOY!
Reach your weight loss goals faster and easier with our quick start guide for women-only, 40+ who have Hashimoto's AND are experiencing hot flashes or other stressful changes.
Start feeling more comfortable in your body revitalized and energized.
How to choose the right foods for you NOW (not what worked for you in your 20s & 30's)
How to use intermittent fasting safely and effectively
Safety protocols, Recipes and Best practices for women 50+ (members only)
Reduce hot flashes
Regain energy and vitality
Women's Wellness mini eCourses & library by topic (members only)
Shannon Garrett is definitely one of my "go-to" experts for Hashimoto's. I did her 4-week private Hashimoto's program and I appreciate that not only is she professionally qualified as a nurse specialist but she actually also has Hashimoto's herself and understands what I've gone through. This really means a lot to me. I loved her online course and have saved it for future reference

Deb D.
Menopause hit me like a tornado. Hot flashes all day and during my sleep. The weight gain in my hips and on my stomach affected me in so many ways. I didn't know if all [this] was because of my thyroid or what. Shannon has helped me SO much and I no longer have the spare tire around my belly! I have more energy and my outlook on life is so much better now that I know the tools for managing menopause. I'm so grateful to Shannon (and so is my husband!).

Patsy N.