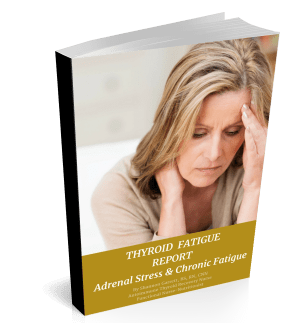 Have you been led to believe your labs are normal but you're still EXHAUSTED and suspect something may be going on with your thyroid?
---
Let's get to the root cause once and for all so you can start to feel energized, lose weight, sleep better and get back to doing what you love.
Download the Thyroid Fatigue Report & Worksheet

We value your privacy and would never spam you
WELCOME TO THE HOLISTIC THYROID CARE COMMUNITY!
Have you been on a journey trying to heal Hashimoto's and the nagging symptoms of hypothyroidism but aren't making much progress? Were you finally diagnosed after troublesome symptoms showed up and wondering why nothing you've been told to do helps?
If the answer is yes, you're in the right place, and I'm glad you're here!
I've been exactly where you are and want you to know that your symptoms are real and thyroid disease can be reversed.
If you've been told by your doctor that your symptoms like hair loss, scaly skin, extreme fatigue, constipation, inability to lose weight, aches & pains, (I suffered with calf and shoulder pain), inability to conceive, foggy-brain, feeling like you need a nap all day, stress, anxiety, panic attacks, dizziness, depression, feeling cold most of the time and/or high blood pressure, cholesterol & blood sugar are "part of being a woman", or that they are a "natural part of getting older", or that you should "exercise more and eat less" then perhaps it's time to say good-bye to your doctor because none of those statements are true!
I've healed Hashimoto's, and so can you! Follow me...I'll show you how it's done.
Please be sure to follow my award winning blog which was recently recognized as one of the top 40 trusted thyroid blogs on the web! If you sign up for my newsletter, you'll never miss a post.
Below is just a quick overview of what you will discover through the Holistic Thyroid Care:
JOIN OUR HASHI WARRIOR TRIBE
FREE GIFT, THYROID HEALTH TIPS AND RECIPES!

If you're tired of being exhausted & fatigued, frustrated that you can't lose weight no matter what you do - and you're experiencing brain fog, sleepless nights, muscle aches & pains; and maybe even hot flashes have started to set in, you are in the right place! I am an Autoimmune Thyroid Wellness Nurse Expert and Certified Functional Nurse-Nutritionist who has lived through the exact symptoms (and more) you're having and I know EXACTLY what you're going through.
I am here to show you the way out.
There is hope! You must believe this. To have hope is to have an optimistic attitude of mind based on an expectation of positive outcomes. I want you to know that common symptoms related to Hashimoto's and hypothyroidism such as fatigue, weight gain, inability to sleep, and muscle & joint pain related to Hashimoto's hypothyroidism can be improved without toxic medications. Your daily life can become enjoyable and exciting again.
You are not alone. Although at times it may feel like you are especially when fatigue and just not feeling your best is the norm. But truly, you do not have to experience the journey alone. Please be sure to visit our Facebook page for updates, tips & tools, events, and important article posts. We would also love for you to join our Hashi's Sister's private Facebook group.
I want you to enjoy all of the offerings and resources you may need along your journey. Everything on my website is intended to guide you toward reversing Hashimoto's symptoms. I share a lot of free resources, articles and updated research on thyroid disease as well as healthy lifestyle tips and delicious thyroid-friendly recipes. Please also be sure to review my FAQs page for the most common questions & answers related to Hashimoto's and hypothyroidism.