Chia seeds are one of the best plant sources of Omega 3 fatty acids.  The tiny seeds are also rich in antioxidants in addition to many nutrients that are important for bone health such as calcium, magnesium, and phosphorus.  It's hard to believe but gram for gram, one ounce of chia seeds contains more calcium than most dairy products.
This study showed that chia seeds play a role in promoting weight loss, improved risk factors for obesity, and helped maintain blood sugar levels.  There are other studies which have shown people who used 37 grams of chia seeds for 12 weeks showed an improvement in high-sensitive C-Reactive Protein (hs-CRP), a blood test, as well as improved blood pressure levels.
If you've gone through my Hashi's Sister's Autoimmune Solutions e-Course, you already know that inflammation is at the root of Hashimoto's hypothyroid symptoms.
Chia seeds may be enjoyed in many ways.  Sprinkle them on your salad, soup, or smoothie.  I love them mixed with Greek-style coconut yogurt and berries.  Since chia seeds don't really have any taste of their own, they won't alter the taste of any food you might pair them with.
So, here's one of my favorite recipes for chia seeds!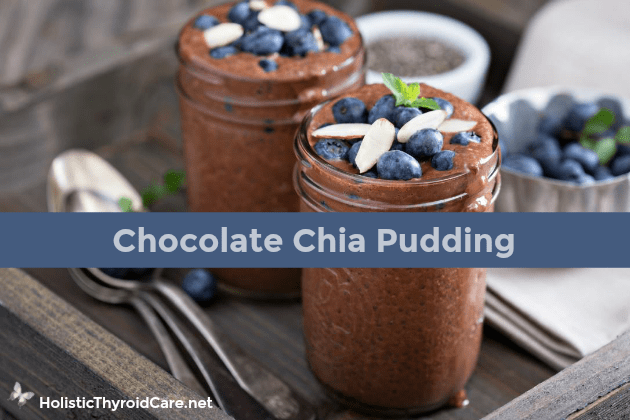 Ingredients
1 1/2

cups

unsweetened almond or coconut milk

3-6

drops liquid Stevia

2

Tablespoons

cacao powder

1

Tablespoon

vanilla extract

gluten-free

1/3

cup

chia seeds

2

Tablespoons

wild blueberries

Raw coconut flakes or raw slivered almonds

for garnish
Instructions
Blend first four ingredients until smooth.

Gently stir in chia seeds and chill in the fridge for 2 hours.

Consume within 24 hours.