Paleo Red Snapper Recipe with Avocado Salsa
This red snapper recipe is Paleo made easy! You can literally pull this off in 30 minutes or less.
I used red snapper but you could also try it with halibut or cod fish if you prefer. Grilling Romaine lettuce was a first for me and it did not disappoint. My husband and I joked about opening a restaurant of our own based on this recipe! Oh wait…maybe we weren't joking, lol.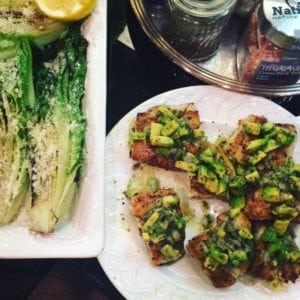 Ingredients
Instructions
Thaw fish fillets if frozen.

Prepare salsa in a small bowl by combining the next five (5) ingredients.

Rinse fillets and pat dry.

Cut into manageable serving size pieces.

Sprinkle with salt and pepper.

Heat olive oil over medium-high heat in an extra large skillet.

Add fish, flesh side down and cook 4 to 6 minutes per 1/2-inch thickness or until fish flakes easily, turning once.

Top fish with avocado salsa and serve.
Notes
May substitute with cod fish or halibut if preferred.
Adapted from Paleo Recipes
Grilled Romaine
Ingredients
1/3 cup lemon juice
3 Tbsp. olive oil
2 cloves garlic, chopped
1/4 tsp. sea salt
1/8 tsp. black pepper
2 hearts Romaine lettuce, washed & dried – cut in half lengthwise
Directions
In a Mason jar combine lemon juice, olive oil, garlic, salt & pepper. Cover and set aside. Lightly brush or drizzle the cut sides of lettuce with additional oil.
Grill lettuce, cut sides down and covered over medium-high heat 1 to 3 minutes or until lettuce is slightly wilted. DO NOT OVER COOK!
Drizzle lettuce halves with vinaigrette.