Winter Blues and Thyroid Health: Lifestyle Tips to Help Feel Your Best
Have you ever wondered how the winter blues and thyroid health are connected? Well, for many of us, a case of the winter blues e.g. seasonal affective disorder (SAD) can exacerbate (worsen) our symptoms related to Hashimoto's. The lack of sunlight, shorter days and colder temperatures make it challenging to stay on the sunny side…if you know what I mean. These issues in addition to the fact that the flu is now an epidemic along with a warning from the CDC that the flu vaccine is not as effective this year (for those who get one, I personally do not) leaves you with the question "how can I protect myself and my family from the winter blues and from the flu?"
I wanted to share a few tips e.g. nutraceuticals, lifestyle, and healthy-eating I personally use routinely and suggest to my clients for winter blues and thyroid health. I've highlighted my favorite personal go-to products that I have used or currently use personally and find them to be the best quality for the money. Always do what is right for you, and if you choose any of these products, be sure to follow the manufacturer's directions. These are pharmaceutical-grade highly bioavailable supplements intended for targeted use.
Mood Food and Mood Food ES both help to support the nervous system. Mood Food combines key B vitamins, including 5-MTHF as Quatrefolic and Albion TRAACS magnesium chelate, with critical amino acids to support overall nervous system health, calmness, and a positive mood. It is also hypoallergenic. Mood Food ES supports calmness and relaxation. Combining the same vitamins, minerals, and amino acids as first generation Mood Food, there are modifications in quantities of ingredients, plus the addition of Suntheanine, vitamin C, and selenium, to further enhance synthesis of chemical messengers that support calmness, a healthy mood, and a healthy nervous system. Mood Food ES is also hypoallergenic.
NOTE PRACTITIONER CODE: WELL1
SAMe & TMG is a sweet, yet slightly tart lemon-flavored powder. SAMe (S-adenosyl-L-methionine) and TMG (trimethylglycine) are naturally occurring substances that act as methyl donors during vital biochemical processes in the body. Methylation is essential to normal cell health and function. It can decline with age or chronic alcohol consumption, and it can be limited in some individuals due to their genetic makeup. This product is hypoallergenic.
NOTE PRACTITIONER CODE: WELL1
Hi Po Emulsi D3 – known for its benefits in maintaining healthy bones, Vitamin D is also an immune system modulator. It actually stimulates the immune system to produce defense white blood cells to kill viruses. Vitamin D is one of the first fat-soluble vitamins to decline in the body in the presence of a virus in addition to when in the winter when we are exposed to less sunlight. Even if you've been outside this winter, if you're north of Atlanta, the winter sun is too weak to for the cholesterol beneath the skin to generate sufficient Vitamin D no matter how much exposure you've had. Protect and support yourself by taking ample Vitamin D. I use Hi-Po Emulsi-D3 which is a concentrated, highly bioavailable liquid formulation offering a broad range of dosages and titration possibilities. Each drop contains 2,000 IU's making it a convenient option as it can be dropped into any beverage or simply on the tongue (plus it tastes good) providing accurate dosing one drop at a time. I personally take 10,000 IU's in the winter to maintain my levels between 80 and 100. Discuss this with your informed healthcare provider.
N-acetylcysteine (NAC). I learned about this amazing antioxidant while in nursing school when I was diagnosed with my second autoimmune disease. NAC has been used in the clinical setting for over 50 years to loosen mucus in hospitalized patients (usually in the form of a nebulizing medication) with COPD, bronchitis, or other respiratory conditions. NAC is also used in cases of acetaminophen poisoning. The liver cannot produce glutathione on its own…it requires specific nutrients to do that and NAC is one of the premier substances as a raw material the liver uses for this process. There are plenty of studies to show that people who regularly take NAC (and Vitamin D for that matter) experience less incidence (if at all) of the flu. NAC is heavily researched for its role in optimizing lung health and is also used for rapid recovery after workouts. As an optimal detoxifier, NAC is also beneficial for protection against normal exposure to heavy metals.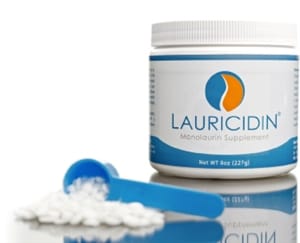 Lauricidin – As far as I know, this product is now available on Amazon. Lauricidin is a product that promotes a healthy immune system, helps maintain a normal healthy balance of intestinal flora and yeast, absorbs cleanly by the body (it is a pure lipid formula) and is cost-effective. Lauricidin is a natural ingredient, first discovered in mother's milk, but also present in coconut oil and a variety of plants. Lauricidin is the original monolaurin that was discovered in the 1960s by Dr. Jon J. Kabara, Ph.D. and is backed by 40 years of research. There is a specific protocol to follow e.g. whether using for prevention when traveling, maintenance, faced with stress, or feel you are "coming down with something." Follow the manufacturer's instructions for adults and children. I relied heavily on this product during when working in the clinical setting.
Oil of Oregano (OOO) has highly effective antimicrobial properties as well as powerful antioxidant and intestinal cleansing benefits. I've had many people tell me they've taking OOO for years, and have never gotten even the first sniffle. It's actually an anti-yeast, antibacterial and antiviral agent, plus it is often used with intestinal Candida/yeast and as a first aid to help treat food poisoning. It's also a powerful antioxidant.
Lifestyle Wellness Tips
It's very important to get a good night's sleep, (this is primarily when the immune system does its business) get regular exercise, (don't overdo it, just get in the habit of moving – high impact or intense exercise only taxes the adrenal glands and impairs the immune system) and WASH YOUR HANDS frequently throughout the day, especially after a using the bathroom and before eating. Also, I like to remind people to keep their hands off their face…I can't tell you how many times I see people constantly touching their eyes, nose, and mouth…this is the perfect invitation for bacteria or a virus the enter the body. Try to make sure you're eating well-balanced anti-inflammatory healthy meals that include lots of nutrient-dense foods full of antioxidants…avoid sugar and processed/packaged junk.
In addition, I like to indulge in regular Epsom salt baths with essential oils such as ginger or lavender. Herbal teas like ginger with honey or dandelion are great to sip on throughout the day and help to keep the mucus membranes moist.
Here's a supportive and nourishing smoothie recipe for you to try:
It's called Healthy Immune and serves 2 people:
1/2 cups nondairy milk or water
1 cup kale, spinach or mixed greens (lightly steamed or blanched)
2 Tablespoons hemp seeds
2 Tablespoons coconut oil
1 Tablespoon raw cacao powder
3 drops stevia OR 1 teaspoon raw honey
1 teaspoon bee pollen
a dash of cayenne
Feel free to add water to thin out your smoothie. Use organic produce whenever possible. If you're having this smoothie in the morning, it's important to add protein, so use a scoop of your favorite protein powder or try hemp protein by Nutiva, Rockin' Wellness or Sunwarrior. Designs for Health has an excellent pea protein, and Vega makes good protein powders as well.
Another favorite remedy I like to use is Bone Broth. If you haven't tried homemade bone broth you are really missing out! The flavor is exquisite and the benefits are myriad – for me, it is one of the most nourishing and supportive things I regularly consume especially in the winter. I simply make a large batch and store in Mason jars. I also freeze some of the broth into ice trays. It's easy to take out and warm 3-4 cubes in a saucepan. I drink a cup of collagen, mineral-rich broth with every meal! It not only has health benefits but beauty benefits as well. Who can argue with that? Please see my Amazing Bone Broth blog post HERE.
To learn more about what the CDC is reporting about this season's flu epidemic, go HERE.
Whatever you do this season to protect yourself from the winter blues and the flu, I hope you stay well. Spring is only a few weeks away!!
What are your favorite tips for the winter blues and thyroid health?