Beet and Red Onion Salad with Basil
Any season is a good time for detoxifying and beets rank at the top of the list due to their amazing health benefits. My Beet and Red Onion Salad with Basil is tangy, sweet, and simple to put together.
Beets are rich in antioxidants and contain important substances such as betaine, fiber, iron, folate, pectin, betalains, betanin and betacyanin.  Beets can help clean the toxins that have been removed from the liver which facilitates their removal out of the system and not being reabsorbed by the body into fat cells.
Beets are not only linked to healing the liver, but they have also been found to reduce homocysteine, improve stomach acid production, prevent free radical formation and prevent cancer of the skin, spleen, liver, colon, and lung.
My Beet and Red Onion Salad with Basil is wonderful this time of year and only takes about 15 minutes to prepare.  Allow the salad to chill in the fridge for 30 minutes though, to "meld" with the yummy Beet Vinaigrette.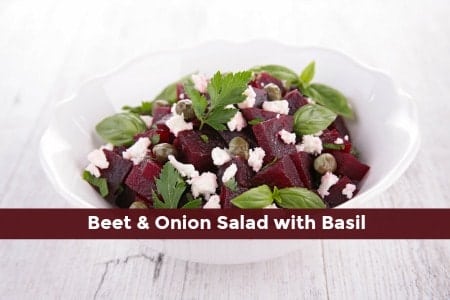 Ingredients
1

pound

fresh steamed peeled and julienned or chopped beets

1

medium thinly sliced red onion

3

tablespoons

slivered fresh basil

OR 3 tablespoons minced fresh parsley

1

tablespoon

balsamic vinegar

1

tablespoon

red wine vinegar

3

tablespoons

pure-pressed extra virgin olive oil

Freshly ground black pepper

to taste

Beet Vinaigrette
Instructions
Combine beets, onion and fresh basil or parsley. Pour Beet Vinaigrette over salad and refrigerate 30 minutes before serving.
Notes
Beet Vinaigrette:
In a small bowl, using a fork, whisk vinegars, oil and black pepper until smooth