Portobello Sandwich Cup
Benefits
Portobello mushrooms are rich in B vitamins which are essential for a healthy metabolism, nervous system, and liver, skin, hair and eye health. A one cup serving contains 15% of the RDA for vitamin B-5 (pantothenic acid), 29% for riboflavin, 38% for niacin and 6% of the RDA for folate and thiamine. Pantothenic acid is important for sex hormones and stress-related hormones, immune function, healthy digestion and helps use other vitamins.Thiamine, in particular, plays a role in energy and prevention of thyroid-related fatigue.
Portobellos are also rich in minerals including potassium, copper, phosphorus, and selenium. Phosphorus is necessary for DNA, red blood cells and strong bones. Copper plays a role in bone formation, is involved in the healing process, energy production, hair and skin coloring, taste sensitivity, stimulates iron absorption and metabolizes several fatty acids.
Adding an occasional Portobello or other mushrooms to your diet helps increase fiber intake which helps prevent constipation, hemorrhoids and high cholesterol. They are also beneficial for lowering your risk of heart disease.
This Portobello Sandwich Cup uses a grilled Portobello cap and is simply delicious – and simple to put together. For the hummus, store bought is fine as long as it's gluten-free. I like the traditional hummus from Whole Foods if I don't have time to make my own.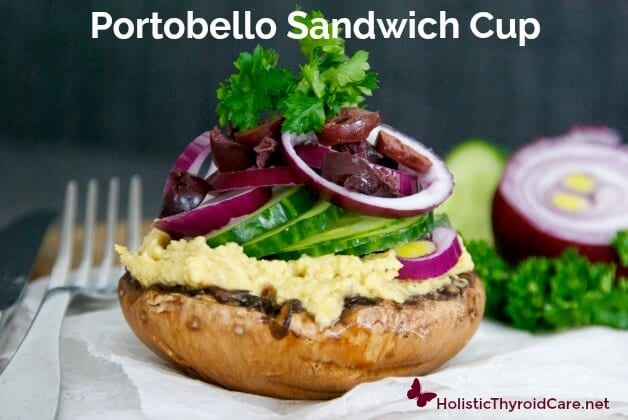 Ingredients
2

large Portobello mushrooms

2-4

Tablespoons

hummus

Cucumber slices

Red onion

sliced

Kalamata olives

slices
Instructions
Brush Portobello mushroom caps with olive oil and grill until slightly charred

Spread hummus on Portobello mushroom caps

Top with remaining ingredients

Enjoy as an open-faced sandwich for dinner or lunch