Holiday Mocktails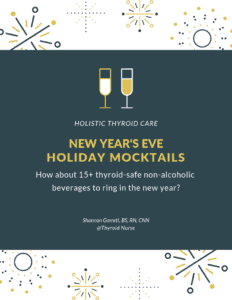 Celebrate in style without compromising your health with 15 delicious and simple thyroid-safe holiday mocktails!
In my 15 Refreshing Holiday Mocktails Guide, you'll enjoy gluten-free, dairy-free, and soy-free beverages like:
POMEGRANATE SPARKLER with HOMEMADE GINGER ALE
KOMBUCHA MIMOSA
CARROT CARDAMOM APERITIF
ORANGE CREAM MIMOSA
THAI DAISY
…and more!
---
You may also enjoy:
8 Tips to Enjoy the Holidays Without the Guilt
---
HAPPY NEW YEAR!
xoxo,