I have finally found a recipe for crab cakes that I love and I hope you will too. This recipe actually helps to balance your hormones! Crabmeat is rich in nutrients, including omega 3 fatty acids which are recommended for your brain, heart, and metabolism. Since crab is small in size and low on the food chain, it is low in mercury so it's a great seafood option. Always be sure to purchase only the freshest crab and make sure it has no fishy odor – walk away if you detect any fishy smell. As an option to crabmeat, you can also use canned (one that is BPA -free) pink salmon if crabmeat isn't in season.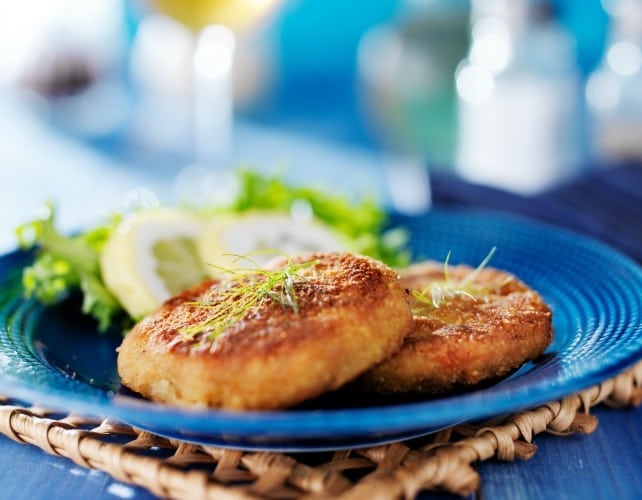 Ingredients
4

radishes

1

small shallot

1

clove

fresh garlic

2

organic eggs

1/2

pound

fresh crabmeat

fully cooked

1/2

teaspoon

rosemary salt

1

teaspoon

dried parsley

1/2

teaspoon

paprika

1/2

teaspoon

garlic powder

1/2

teaspoon

black pepper

3 to 4

Tablespoons

ghee or coconut oil
Instructions
Pulse the radishes, shallot, and garlic in a food processor until minced.

Beat the eggs in a large mixing bowl, and add minced mixture. Mix in the crabmeat and all the spices.

Heat the ghee or coconut oil over medium heat in a large frying pan.

Form the crab mixture into small flat cakes, and fry for approximately 5 to 7 minutes per side or until well-browned and cooked through.

Serve on a bed of fresh greens with lemon wedges.

Enjoy!