Mama's "You'll Feel Better" Chicken Soup
During the winter months, I know of nothing better or more soothing to help you survive the flu and cold season than a steaming hot bowl of tasty homemade chicken soup.  There is actually research to support the benefits of chicken soup indicating that it supports the immune system during this time especially when you start to feel the onset of symptoms of the flu or a cold such as achiness, stuffy nose, sore throat, headache, cough, and a general feeling of being "run down."
Chicken soup is the top go-to food choice for lots of people when they're sick or not feeling up to par during the colder months.  Maybe it's a conditioned response we learned during childhood, IDK, but it really does help soothe and fight inflammation in the throat and respiratory tract, clear congestion in mucous membranes, prevent dehydration, and overall chicken soup makes you feel better.  
But, not all chicken soup is created equal!  I avoid commercially-made chicken soup if at all possible and try to make sure I prepare in advance by having the ingredients for my mom's version on hand in the kitchen especially during flu and cold season.
Mama's "You'll Feel Better" Chicken Soup really is my mother's recipe. I found it in one of her old cookbooks ( that I saved after her passing.  She lovingly made it for me and my siblings for many years to help us feel better and now I'm sharing it with you!
It's really quite easy to make and can be frozen into individual servings.  You may add a little gluten-free pasta (I prefer Jovial brand) if you like; however, if you truly have the flu or a nasty cold, I recommend that you hold the pasta.
If you can make the stock part of this recipe from scratch (I've shared how on the printable recipe card) by all means, go for it!  If not, simply pick up a few cartons of the best low-sodium, free-range organic chicken broth and keep it in your pantry.
I hope you enjoy my Mama's "You'll Feel Better" Chicken Soup!
Let me know 🙂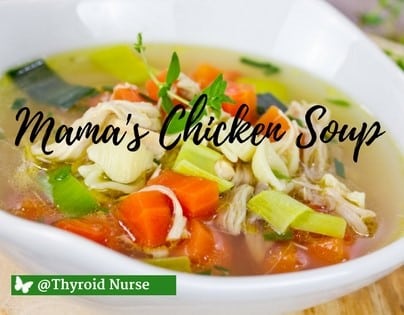 Ingredients
2

pounds

cut-up chicken parts

breasts and thighs

2

quarts

chicken stock

see recipe below, or low-sodium organic chicken broth

1

bay leaf

1

medium chopped onion

1

finely chopped leek

1

garlic clove

minced

3

carrots

cut diagonally into 1/4-inch pieces

1

parsnip

peeled and cut diagonally into 1/4-inch pieces

2

stalks celery with the leaves

cut diagonally into 1/4-inch pieces

1/4

cup

fresh parsley

finely chopped

Ground black pepper to taste
Instructions
Rinse chicken under cold water and pat dry with paper towels. In a heavy-bottomed soup pot, bring chicken stock to a boil over medium-high heat. Add chicken and bay leaf and reduce heat to low. Cover and poach until cooked through, about 10 minutes. Remove chicken from stock, drain, and shred meat, discarding skin and bones. Set meat aside.

Add onion, leeks, garlic, carrots, parsnip and celery to soup pot.

Simmer over low heat, covered, about 20 minutes until vegetables are tender. Add shredded chicken, parsley and black pepper. Taste, and adjust seasonings.
Notes
Homemade Chicken Stock:
1 whole stewing chicken (5 to 6 pounds)
4 quarts water
2 large onions, quartered and studded with 3 to 4 whole cloves
4 peeled garlic cloves
2 well-washed coarsely chopped leeks
3 carrots cut into 2-inch chunks
4 celery stalks with leaves, cut into 2-inch pieces
3 parsnips, cut into 2-inch chunks
1 bunch coarsely chopped fresh parsley
3 bay leaves
4 to 5 sprigs fresh thyme, or 2 teaspoons dried thyme
10 whole black peppercorns
Rinse chicken under cold water and pat dry with paper towels. Cut chicken into quarters. In a large soup pot, bring chicken and water to a boil.
Skim off foam as it collects on the surface.
When no more foam appears, add remaining ingredients.
Bring back to a boil, reduce heat and simmer, partially covered, 2 to 4 hours. The longer the stock cooks, the richer it will taste!
Remove stock from heat, and allow to cool.
Strain stock through a fine-meshed sieve.
Reserve chicken for another use.
Thoroughly cool before refrigerating or freezing.