You know when you get those "I've got to have some chocolate!" episodes? Experts say that a craving for chocolate is associated with a magnesium deficiency.
Chocolate cravings seem to be an issue mostly for women (although I happen to know a certain mail who requires chocolate on a daily basis) and it's related to a drop in magnesium levels often during stress, menstruation, perimenopause or menopause.
Ladies, we just can't win!
The adrenals use up a lot of magnesium during stressful times and as it turns out, hormone fluctuations mess with our intracellular magnesium levels as well.
It's no wonder we crave magnesium – and it's not due to weakness or lack of control.
Try these healthy guilt-free Paleo Cashew Truffles. I recommend keeping them in the freezer and popping a few out any time you have a magnesium emergency and need chocolate.
Enjoy!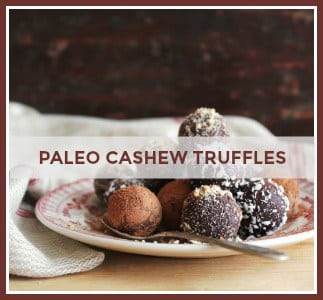 Paleo Cashew Truffles
Gluten-free, dairy-free, soy-free Paleo cashew truffles are easy to make and will satisfy cravings for magnesium 🙂
Print
Pin
Rate
Ingredients
8

ounces

unsweetened chocolate

2

Tablespoons

coconut oil

1/2

cup

canned unsweetened coconut milk

1/4

cup

pure maple syrup

1

teaspoon

vanilla

3/4

cup

whole raw cashews

1/4

teaspoon

coarse sea salt
Instructions
Chop the chocolate and place in a medium bowl along with coconut oil.

In a small saucepan bring coconut milk to boiling and pour over chocolate.

Cover and let stand 5 minutes.

Stir until melted and add the maple syrup and vanilla.

Cover and chill 45 minutes or until firm enough to shape.

Preheat oven to 350.

Place cashews in a shallow ban 10 minutes or until toasted (not burned), stirring once.

Set aside 35 whole cashews.

In a food processor cover and pulse remaining cashews and salt until finely chopped and then transfer to a small bowl.

Divide the chocolate mixture into 35 portions. For each truffle, place a whole cashew in the center of a chocolate portion and shape into a ball.

Roll each ball in chopped cashews.

Store in the fridge and let stand at room temperature 30 minutes before serving.
Notes
TIP:
If the chocolate mixture sticks to your hands, dust them with unsweetened cocoa powder.
Or, use a small spoon to scoop the mixture into the portions and shape around the cashews.
Adapted from Paleo Recipes