It can be pretty isolating when gathered around the holiday table for anyone who can't join in because of food restrictions whether it be by choice or necessity.
Personally, I know how this feels.
Having attended dinners in the past hosted by others who had no idea (or perhaps didn't care) why anyone must avoid gluten and dairy felt not only awkward but also embarrassing to the point of hesitation to even make the effort to attend.
There've even been times I prepared my own dinner and packed a to go bag only to be stared at during the meal.
Many of my readers report experiencing similar frustration.
I like to view these unfortunate episodes as "educational opportunities" to plant seeds of knowledge so that others will eventually realize that, not every food is safe for all anymore.
Now, all the suggestions included in my Thanksgiving Menu are free of gluten, dairy, soy, corn, and processed sugar. However, we must not overlook our friends and family who prefer not to eat animal protein.
So for this Thanksgiving, let's all remember to offer at least one vegan option.
And, I don't mean vegetable side dishes, but a main protein-rich entree.
Providing a main dish option for our vegan friends which includes protein eliminates all those unnecessary questions like "why aren't you eating turkey dear?"
And so on…
Roasted Carrots with Lentils & Tahini will be much appreciated by your guests who prefer vegan options.
Don't be surprised if your non-vegans at the table want to sample a taste as well – so make plenty because this dish is delish!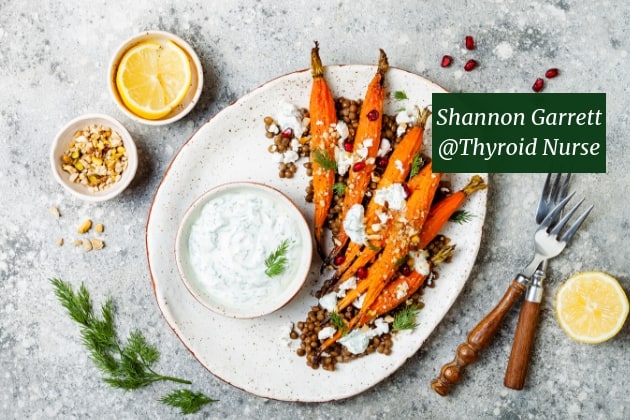 Instructions
Preheat oven to 430 degrees F. Line a baking sheet with parchment paper. Rub the carrots with coconut oil and season with sea salt. Bake 20 minutes.

In a small jar combine the tahini, lemon juice, water, and half the olive oil. Cover with a lid and shake vigorously until well mixed and set aside.

Add the finely sliced kale to a large bowl and massage with the remaining olive oil and red wine vinegar. Divide between bowls and top with lentils.

Add roasted carrots over top and drizzle with tahini dressing.
Notes
Prep Ahead

Slice the kale and massage it in the olive oil and red wine vinegar. Drain and rinse the lentils. Store both covered in the fridge until ready to prep the rest.
Roasting the Carrots

You can leave the green tops on the carrots or slice them off before roasting.
Leftovers

Store covered in the fridge up to 3 days.
Nutrition Facts
Roasted Carrots with Lentils & Tahini
Amount Per Serving (1 serving)
Calories 421
Calories from Fat 153
% Daily Value*
Fat 17g26%
Cholesterol 0mg0%
Sodium 546mg24%
Potassium 1011mg29%
Carbohydrates 53g18%
Protein 17g34%
Vitamin A 1100IU22%
Vitamin C 28.9mg35%
Calcium 260mg26%
Iron 10.3mg57%
* Percent Daily Values are based on a 2000 calorie diet.
You may also enjoy: