Boost Iron, Fiber, Potassium & Antioxidants with my Apricot Fruit Dip!
APRICOTS are one of my favorite fruits – something about them makes me think of warm weather and breezy care free days.  To combine apricots with coconut cream is just heavenly.  My Apricot Fruit Dip is a blast from the past . . . a recipe I've had since the early 90's and I have always enjoyed making it for family and friends.
Due to my own health issues and the need to be totally gluten & dairy free, I have revised my original recipe since then.  I actually think my updated version tastes much better!
In the recipe you will notice it calls for 9 oz. of my Simple Gluten Free/Dairy Free Coconut Whipped Cream so be sure to check it out. Instead of using cream cheese and mayo, I use the SO Delicious brand Cultured Coconut Milk Yogurt (Plain AND Vanilla).
Apr 8, 2012 … Apricot Fruit Dip served with Apricot Walnut Bread at our Townsend TN bed and breakfast near Gatlinburg, Pigeon Forge and the Great Smoky …
Bonne Maman organic apricot preserves from France is gluten-free and simply the best.  I prefer these over any other brand for their high quality and taste. I've tested other brands in this recipe and there simply is no comparison.
Curry powder is one of my favorite natural anti-inflammatory spices and it adds just the right kick to this dip. Please note that not all spices are gluten-free.  We can trust the Simply Organic brand of spices and herbs.  I use this brand every day.  You can also find it at your local Whole Foods or order online.
Serve my Apricot Fruit Dip with assorted fruit like strawberries, kiwi, blackberries, apples, pears, bananas, cantaloupe, grapes, and pineapple.
It is especially nice for spring and summer holidays, baby & bridal showers, engagement parties and luncheons.  It also makes a beautiful presentation as a healthy dessert or appetizer and pairs well with white or blush wines. I guarantee your guests will be wowed, and nourished by it!.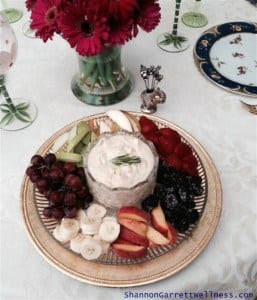 Ingredients
8

oz.

SO Delicious Plain Greek Cultured Coconut Milk Yogurt

2

Tablespoons

SO Delicious Vanilla Greek Cultured Coconut Milk Yogurt

2

Tablespoons

fresh squeezed lemon juice

12

oz.

Bonne Maman apricot preserves

Dash of curry powder

9

oz.

Simple Gluten & Dairy Free Coconut Whipped Cream

see recipe link in text
Instructions
Mix all ingredients except the coconut cream and blend well. Add coconut cream and garnish with a sprig of mint or rosemary. Serve with sliced pears, bananas, pineapple, berries or choice and/or gluten-free graham crackers.