Eggplant is definitely a summer favorite! I love it because it's full of antioxidants to help fight free radicals. Although it is technically a nightshade, not everyone is sensitive to or affected by it in any way. If you've been feeling sluggish from the summer heat and ready to try something different for Labor Day grilling, try my gluten free grilled eggplant with honey mustard dressing. It's wonderful!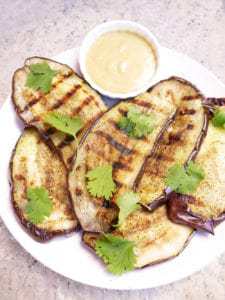 Ingredients
Grilled Eggplant
1

large eggplant

top removed and sliced lengthwise

2

Tbsp.

extra-virgin olive oil

Salt and pepper

Fresh cilantro for garnish
Instructions
Preheat the grill on medium-high.

Brush eggplant slices with olive oil on both sides and season with salt and pepper.

Grill eggplant slices on the pre-heated grill for 5 minutes on one side and 3 minutes on the other. Remove from heat.

In a small bowl, whisk together dressing ingredients until thoroughly combined and creamy.

Drizzle eggplant with mustard sauce and garnish with fresh cilantro.

Serve immediately.

Enjoy!