Green Smoothies for Hashimoto's & Your Thyroid
The right kind of nutrition is necessary for everyone, and it is essential for people with Hashimoto's, hypothyroidism or any autoimmune disease for that matter. This is why I love green smoothies for Hashimoto's and thyroid health. 
Hashimoto's is not what I consider a "thyroid disease," per se, but rather it is actually an autoimmune disease.   Autoimmune disease will typically involve a genetic predisposition, intestinal permeability (leaky gut syndrome) and a trigger.  Also, it is common for people with Hashimoto's to have issues with hormone imbalance, adrenal fatigue, food sensitivities, digestive problems and nutrient deficiencies.  Fatigue, anxiety, weight gain and issues with skin, nail and hair health are only the tip of the iceberg for what a Hashimoto's patient will experience over the course of their disease.
Hashimoto's thyroiditis is a chronic autoimmune disease which involves inflammation of the thyroid gland.  A common misconception of Hashimoto's is that it is "just" a thyroid disease. However, as previously noted, Hashimoto's is an autoimmune disease.  The immune system has lost self-tolerance and attacks tissues it believes to be foreign to the host.  To treat only the thyroid is, in a nutshell, missing the point altogether – we must also consider the health of the immune system and GI tract to get to the root cause.
When I finally got diagnosed with Hashimoto's after eight years, I knew I had to eliminate gluten, dairy, corn, and soy from my life forever.  And because I also had celiac disease I truly had to take a serious look at my overall nutrition.  My food sensitivities were literally off the chart, and I wasn't absorbing nutrients optimally.  My gut was inflamed, I had phase 3 adrenal fatigue, I was estrogen dominant, and weight loss resistance was my norm and for almost a decade.  I stressed a lot over how to get back to my old self…the healthy me before the world of autoimmunity took over my health and well-being.
Green Smoothies to the Rescue
I turned to green smoothies as a part of my daily regimen.  At first, I started getting one to-go from Whole Foods. Since this can get expensive (and not always organic) I invested in a Ninja high-powered blender and have been a fan of my green smoothie creations ever since.
Green smoothies, if done correctly, are the perfect meal in my opinion.  What I mean by perfect is that if a smoothie contains protein, fat, and fiber, it's a complete meal.  Green smoothies are easy to digest, and therefore your body will absorb and assimilate the nutrients your body needs more efficiently.   Green smoothies are nutrient-dense with vitamins and minerals, and healthy fat and fiber which is great for stabilizing blood sugar.  One of my favorite reasons for drinking green smoothies is that they help support detoxification and fight free radicals.
Healthy fats contribute to maintaining blood sugar balance for 3-4 hours post meal, whereas protein and carbohydrate cause blood sugar to rise more quickly.  My favorite healthy fats for green smoothies include avocado, unrefined organic coconut oil, sugar-free & gluten-free almond butter, and organic almond or full-fat coconut milk.
Fiber and antioxidants occur naturally in fruits and vegetables.  A few of the best, nutrient-dense options include frozen wild blueberries, raspberries, and dark cherries; fresh organic Swiss chard, spinach, or kale.  Be sure to always lightly steam or blanch kale (or any cruciferous vegetable) to release the goitrogenic compounds that suppress thyroid function.  Also, if constipation or sluggishness is an issue, I like to add PaleoFiber or TruFiber.
I have found the best protein options for green smoothies include three choices:
Pea protein

derived from North American non-GMO organic yellow peas

HydroBeef

protein powder
The carbohydrate content of pea protein is little to none, and it is rich in protein.  Non-denatured whey protein used for a limited amount of time (if not sensitive) is also a good choice since non-denatured whey helps raise levels of glutathione.  Protein powder (Hydrobeef) is an excellent  Paleo choice.
Green smoothies can help you feel better and contribute to reducing inflammation and healing the gut.  My clients who use green smoothies on a regular basis often report having more energy, better mood, and weight loss.  Of course, I also recommend including healthy meals that are anti-inflammatory as part of an overall nutrition plan.

One basic green smoothie I frequently enjoy is chock-full of nutrients to support thyroid and immune health while also being anti-inflammatory and detoxifying. Personally, I use full-fat coconut milk (my most recent food sensitivity test revealed I am sensitive to almonds) and fiber from fruits and vegetables.  I also use PaleoFiber and TruFiber (rotate between the two) and either coconut oil or a small avocado for healthy fat content.   
I blend smoothies using my Ninja high-powered blender, and it only takes a few seconds to whip one up.  It makes it so much easier to digest than if I were to eat each ingredient as part breakfast or lunch!  Easier digestion means better absorption of nutrients.
Coconut milk is anti-inflammatory.  Using full-fat coconut milk helps maintain blood sugar balance as would be the case if you were to use an avocado as the source of healthy fat.  Either one is perfect.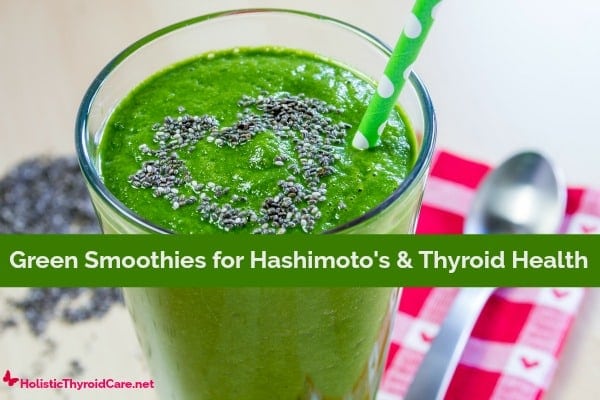 Transformational Green Smoothies for Hashimoto's
Try this smoothie daily for breakfast or lunch at least seven days and let me know what you experienced! Most of my clients said that they felt more satiated, energized, improved mood and felt less stressed.
Print
Pin
Rate
Ingredients
A handful of spinach or mixed greens

1

cup

full-fat coconut milk

1/4

green apple

chopped

1/2

cucumber

peeled & chopped

1/4

cup

frozen wild blueberries

dark cherries, or raspberries

1/2

avocado

peeled

1

scoop pea protein

non-denatured whey protein, or Hydrobeef protein

1

scoop PaleoFiber or TruFiber

Ice cubes

if desired, for a creamy consistency

Optional:  Maca powder

turmeric powder, collagen powder, MSM powder, cacao powder, Camu Camu powder, carnitine tartrate, PaleoGreens, PaleoReds, Chia seeds, ground flaxseed, flax oil, and/or inositol powder
Instructions
Add liquid to the blender and add protein powder, fruits/veggies, additional fiber, optional ingredients and blend. Add ice cubes if desired, and blend a few more seconds.  Enjoy!
Notes
Two tablespoons of Flax oil has been proven to increase short-chain fatty acids in the GI tract. This is a good thing 🙂
A Word about Kale 
Green smoothies are quick and easy to whip up and personalized to your taste buds. You may also include as many nutrient-packed ingredients to fill your heart's desire (like this one). But be extremely careful with Kale. Although Kale is nutrient dense, and it ranks high on the nutrient scale as the mother of all leafy greens, kale does contain harmful chemicals and is considered a goitrogen.  Goitrogenic vegetables disrupt the production of thyroid hormones by interfering with iodine uptake in the thyroid gland. If you feel you can't live without kale, you may lightly steam or blanch it before adding to a smoothie.  The enzymes that make kale goitrogenic are partially destroyed by cooking, ensuring kale is safe to consume. My friend Carrie Vitt discusses more on goitrogenic vegetables through her blog and explains why people with Hashimoto's or hypothyroidism should not consume kale uncooked. 
If you're tired of feeling exhausted and frustrated that the weight won't budge despite your efforts (believe me, I've been there!); or you're experiencing issues with bloating or sluggishness, please try this smoothie!  
If you're interested in a variety of therapeutic recipes to support thyroid health:
What are some of your favorite green smoothies for Hashimoto's & thyroid health?  I'd love to know!
Send us an email us with your favorite recipes, or better yet, send us a photo of you enjoying a green smoothie! We'd love to see it.
Our email address is [email protected]
Thanks for reading.
You may also enjoy:
Why are Smoothies Important for Breakfast?
Common Thyroid Symptoms & Insulin Resistance