It's true in that we all have a friend who has thyroid disease, whether it be Hashimoto's thyroiditis or hypothyroidism (or both); or perhaps even secondary autoimmune disease. With my Holiday Gift Ideas for Women with Thyroid Disease, you can show them you care and understand what they go through on a daily basis.
From substantial gifts to meaningful stocking stuffer's you will lift her spirits and help her feel better simply by showing you care with a gift that won't compromise her health.
Rest assured that each and every gift idea I'm suggesting will be welcomed whether she is in remission, has relapsed (experienced a setback), has been newly diagnosed, trying to get a diagnosis, or has her health altogether.
She will be delighted and will appreciate your thoughtfulness.
---
I've organized holiday gift ideas for women with thyroid disease around Maslow's Hierarchy of Needs.
The reason for this is that for example, if a woman is struggling in the area of physiological or safety & security needs, you might not want to get her a gift that falls under Maslow's "self-actualization" top category like a journal, etc.  So, as a nurse and a woman with Hashimoto's myself, I've categorized gift suggestions by what she needs most and in what order, so to speak.
However, you know your friend or family member best, and will likely be the best judge, so please consider these suggestions as a guide for you to consider what she truly needs.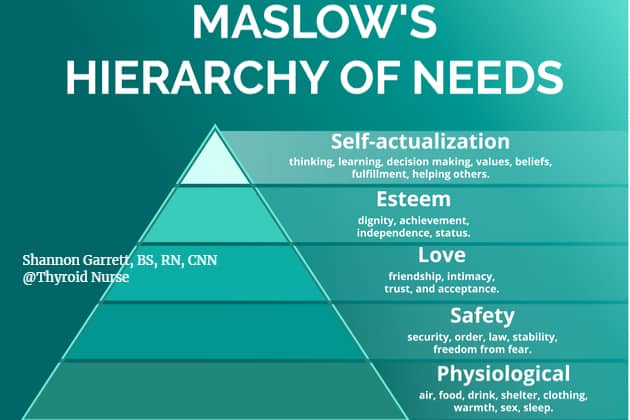 For most women with Hashimoto's hypothyroidism, what we struggle with the most is making sure we can meet our health and wellness needs. Once those needs are met on a consistent basis, we can then focus on the idea of moving forward into Maslow's framework for Love, Esteem, and Self-Actualization.
So here's how this plays out in terms of gift-giving to help her (or yourself) in a meaningful way:
Physiological Needs
If you a friend or family member is struggling in the areas of food & nutrition, hydration and/or sleep,  please note that these issues rank highest on the list according to Maslow's hierarchy of needs.
While we are in the holiday season most women would like to optimize their nutrition and nutrients especially as the new year approaches, not only to feel better but to look better too, which will help with energy, sleep, weight and bloating.  A program designed specifically for women who struggle with the myriad of challenges related to thyroid disease is the safest option and will foster a sense of well-being and confidence in that the program is the right one for her.
Consider giving her the DIY Vivify 14-Day program for women with thyroid disease.  It's a whole foods program which includes all of her shakes and supplements, daily educational e-mails for motivation and support, a complete master program guide, addition to two of our Facebook Support Groups (voluntary) and SPECIAL BONUSES for her such as an additional detox meal plan guide with shopping lists, menus, snacks and nutrition facts to support her as she transitions from the program and into the new year, my anti-inflammatory crockpot meals and stews to keep her warm and nourished during the colder months, a Lab Guide related to detoxification including predictive biomarker testing as a resource to guide future therapies for enhancing her health and risk reduction, a Self-assessment guide: three at-home self-assessments to help her assess her risk factors for cardiovascular disease and other illnesses, nutrient absorption, and hydration status, The Hashi's Sister's Guide to Flu & Cold Season (priceless!), Three Basic Nursing Lifestyle & Wellness Care Plans, and a Food, Lifestyle and Movement Journal + Adverse Food Reactions Tip Sheet.
Maintaining a protocol which includes high-quality supplements can sometimes present challenges and loss of compliance due to expense.  But the truth is, women with thyroid disease need their supplements to maintain health and well-being.  Despite popular belief, thyroid medication isn't the cure-all, and it's not a panacea.  Thyroid hormone replacement is no doubt crucial, but it doesn't replenish nutrient deficiencies which are common for women with Hashimoto's.  This is one reason I offer a 40% discount across the board on all Designs for Health supplements and medical foods products through our exclusive Designs for Health e-Health-Pro e-Store.  I can't stand the thought of anyone not being able to afford high-quality science-based supplements.  For gifts she'll truly appreciate, particularly if cost is a concern, I recommend the following individual products or order them all as a complete "kit" to help her get started on the right track through the holidays and into the new year:
USE CODE HTC10 to save 10% on them all!
Recommended Supplements for Gift Giving
PurePaleo™ Chocolate Protein Powder
is simply the best!  It's a novel, great-tasting,
dairy-free & gluten-free
protein powder, yielding
21 grams of protein per serving
. It contains HydroBEEF™, a highly concentrated,
bone broth protein isolate
, produced through an exclusive proprietary process that allows the protein to be hydrolyzed into more peptides, resulting in easier absorption and assimilation. This product contains beef from animals raised in Sweden without hormones or antibiotics and is free of any GMO grains, grasses, and/or ensilage.PurePaleo™ is an ideal protein for those who are dairy sensitive, want a true Paleo protein source, want the power of beef to maintain lean muscle, cartilage, and ligaments. It's also non-GMO.
Adrenal Complex is a glandular-based product designed to support overall adrenal function. It is fortified with N-acetyl tyrosine, vitamin C and a comprehensive spectrum of B vitamins. Adrenal Complex is ideal for those under chronic stress (holidays, anyone?) due to its ability to balance cortisol and replenish catecholamines (dopamine, norepinephrine, and epinephrine). Made with non-GMO ingredients.
ImmunoMod-A™ is beneficial as an immune system modulator and has been formulated to help balance a healthy inflammatory response, which is necessary in order to help maintain optimal immune function in the body. It features ParActin®, an extract of the herb Andrographis paniculata, which has been shown to modulate immune, inflammatory and oxidative pathways.  This product also contains the monosaccharide n-acetyl glucosamine along with curcumin, a polyphenolic compound extract from the spice turmeric. Both of these compounds help to support a healthy inflammatory response. Made with non-GMO ingredients.
N-Acetyl Cysteine which helps to reduce oxidative stress in the body is an amino acid that is a precursor to glutathione, the body's most powerful antioxidant, and helps promote optimal detoxification. NAC is heavily researched for its role in optimizing lung health and is also used for rapid recovery after workouts. It is also beneficial for protection against normal exposure to heavy metals.
SAMe is a naturally occurring metabolite found in the human body as well as in plant and animal foods. It is the most active of all methyl donors and has been compared to ATP in its importance for the body. SAMe is naturally synthesized in humans from the amino acid methionine in the presence of the cofactors B12 and folate. SAMe is involved in the synthesis of neurotransmitters, the hormone melatonin, phospholipids, and polyamines, which control cellular growth. It is also the source of methyl groups inside the nucleus for DNA methylation, which controls gene expression and masking of genetic damage. These capsules provide 200 mg of SAMe along with vitamins B6, B12, and folate as 5-MTHF in order to provide cofactors for the natural conversions of SAMe to L-homocysteine and then safely to L-cysteine. Made with non-GMO ingredients.
---
*These statements have not been evaluated by the Food and Drug Administration. This product is not intended to diagnose, treat, cure or prevent any disease
---
High Quality Healthy Food & Nutrition Resource Gift Ideas
Real Plans is a weekly meal planning service which she can customize for herself as well as for her family.  She can choose meal plans and recipes from categories such as Gluten-Free, Keto, Paleo, Vegetarian, Autoimmune Paleo (AIP), GAPS, Dairy Free, Whole30 or Classic Healthy, she can easily choose her diet preference.  Real Plans was designed by real foodies with real eating restrictions, so they've packed their app with hundreds of delicious recipes and enough flexibility to satisfy an incredibly wide range of diets.  Real Plans offers a premium membership option for only $5 extra a month, which allows access to your own meal planning concierge – someone who will fine tune the meal plan for you AND keep you accountable when you feel scattered or ready to tap out (common Hashimoto's problems!).   Also with Instacart, it's easy to have groceries delivered instead of navigating the grocery aisles, standing in long lines and depleting precious energy.  Soon, the Meal Plans meal planning intuitive and user-friendly app will be available for mobile devices, yay!
Thrive Market is the go-to resource to get organic and non-GMO brands for less delivered directly to your door.  You can literally save 25-50% off retail every day and you can shop by diet preference and by category for healthy food, safe non-toxic home cleaning supplies, products for babies & kids, healthy snacks and other grocery items.
Vital Choice is the best resource for wild-caught seafood (I LOVE LOVE their salmon!) and organics.  Their "Vital Box" is a wonderful way to try them out with your choice of wild salmon, wild fish, or wild seafood with a monthly subscription or a one-time order.  I've met these guys personally and they are passionate about sustainable fishing practices and offering only the best wild-caught fish that's very low in mercury.  If you're not delighted with your order, they'll refund or replace your purchase.
Water Filtration System
APEC Top Tier Alkaline Mineral pH+ 75 GPD 6-Stage Ultra Safe Reverse Osmosis Drinking Water Filter System is of supreme quality – designed, engineered and assembled in the USA to guarantee water safety & your health.  It has a 75 GPD 6-stage system that removes up to 99% of bacteria, viruses, cysts, organics, chemicals & more. 
Give the Gift of SLEEP!
Many women with Hashimoto's have difficulty sleeping whether it be problems getting to sleep or waking up during the night.  I never in my wildest dreams would have believed these glasses could help until I tried them!  Now, I proudly put on my TrueDark glasses an hour or so before bed and enjoy 8-9 hours of uninterrupted quality sleep.  When I met Dave Asprey personally last year at a conference and listened to the science behind these unique glasses I wore them that evening before going to bed.  I typically don't sleep well when traveling, so I knew this would be the perfect test.  To my delight, not only did I fall asleep within 20 minutes, I slept very sound for 8 hours.  Since then, I've purchased these glasses for many of my friends and family.  The glasses are really that good, I promise!  Dave agreed to allow me to offer a discount code for our readers to save 10% off retail.  And not only will you receive the night glasses, but you'll also receive the indoor/day glasses as well!  So, if you don't give anything else as a gift this season, consider giving someone the GIFT OF SLEEP because these glasses REALLY DO WORK!
Get your TrueDark Glasses and save 10% by using the following code: hashihealth
De-Stress the Holidays!
The RESPeRATE Ultra Biofeedback Device was initially intended to help control high blood pressure and remains one of the most effective at-home non-invasive devices I've observed as a nurse, and it's endorsed by Mayo Clinic. The bonus is that it's also an excellent diaphragmatic breathing tool which helps to reduce stress.
Essential Oils are an excellent way to support relaxation, mood, and alleviate generalized aches and pains.  The top therapeutic essential oils are made by Vibrant Blue Oils.  They're the best because they're focused on the therapeutic use and benefit of essential oils and they also offer practitioner training.  I first learned about Vibrant Blue Oils through the Nutritional Therapy Association and again when I became a certified clinical aromatherapy nurse.
The essential oils I would recommend as a gift for any woman with thyroid disease would be any of the following:
Health & Beauty
Finally, be sure to check out our self-care & beauty resources page for additional gift ideas. There you'll find hand-selected items for beauty, self-care, menopause, travel, sleep, general necessities, supplements, and more.
---
I want to wish you and your family a happy, healthy, and joyous holiday season!
Blessings!