It seems I am constantly running around 80 miles an hour with little or no time anymore. But I am committed to a life of helping others and also maintaining a healthy lifestyle for myself.  For me, staying healthy also means my diet must be gluten & dairy free because my immune system reacts if I don't and I relapse. At first it seemed an impossible task to go gluten & dairy free but that part has gotten easier.  What is difficult now is the time to prepare a healthy meal, particularly breakfast. You know how it is, we all get caught up juggling so many tasks and heading out the door early every day to tackle work or the details on our to-do list.  It's easy to slip into a habit of skipping breakfast.  And to that I say please don't!!  We humans need a complete whole-healthy breakfast to sustain us, support our adrenals, maintain healthy blood sugar levels, fuel energy, and nourish our brain and body after the 8 hour or so fast we were on while sleeping the night before. (Not getting 8-9 hours of sleep per night? We need to talk…). My absolute "go-to" for breakfast is the smoothie.  It is simple, healthy and a quick meal choice.  You can blend it up and carry it with you out the door to drink on the way to work. I will admit that smoothies of the past were somewhat boring and bland.  But today I have discovered a world of deliciousness I never thought possible!  The new world of smoothie's for me comes from having to go gluten & dairy free, and seeking out alternative options.  When I began this journey, I made a commitment to a) maintain this eating lifestyle for my health, and b) never feel like I was compromising taste – food simply has to taste good or I won't do it. My mainstay smoothie meal.  It's really quite simple.  I keep all of my dry ingredients in a Glad-ware plastic box for ease of use.  I combine a scoop of my favorite Whey-Cool or PaleoMeal chocolate protein powder with unsweetened almond milk, a handful of frozen fruit, Cacao powder, and a handful of fresh organic spinach.  I also add flax oil, ground chia seeds, Trufiber, a pinch of organic cinnamon, a splash of organic vanilla, and if I have it on hand, left-over coconut water (from making coconut whipped cream with full fat coconut milk).  I put all of these ingredients along with a few ice cubes in my professional Ninja blender and within 2 minutes or less, I have a perfectly complete, tasty and nutritious meal that keeps me satisfied, feeling good and mentally alert for hours. I am always sure to also take these digestive pancreatic enzymes at the end of my smoothie meal (as well as with all meals and at bedtime). Enzymes taken at the beginning of a meal will give you a sense that you can eat more than you normally would so be sure to take them midway through or at the end of a meal. Whey Protein or PaleoMeal protein powder. I love both Whey Cool and PaleoMeal protein powders and rotate the two.  They are gluten free, and although are not labeled "dairy free," the protein is non-denatured native whey protein concentrate and is tolerable by most of us who must be dairy free. My immune system does not react to this form.  Non-denatured whey protein is produced to maintain the full range of all the fragile immune-boosting and regenerative components naturally present in fresh raw milk.  This form of native non-denatured whey protein concentrate is full range, biologically active, has a complete amino acid profile, and naturally contains an exceptional amount of the critical glutathione precursor covalent-bonded cysteine.  In addition, it contains the full range and exceptional levels of the most important protein components, which are lactoferrin, immunoglobulins, serum albumin, active peptides, glycomacropeptides, and growth factors. The milk harvested for these protein powders comes from cows that graze year-round on pesticide-free and chemical-free natural grass pastures.  Milk from grass-fed cows has many times higher levels of CLA and contains the proper balance of essential fatty acids. The milking cows are never fed grain or subjected to any growth hormones, chemicals, antibiotics, genetically modified organisms, hyper-immunization or injected pathogens. A word about chia.  Those of us who have an autoimmune disorder and choose to avoid gluten need to be careful with chia seeds because they are on the list of foods that "cross-react" with gluten. This means that the immune system may recognize chia as gluten and launch an inflammatory response and/or cause stomach upset.  For me personally, regular chia seeds literally feel like pieces of glass moving through my gut and it's very painful, as in doubled-over pain for hours. I have found however, that when I use this brand of ground chia seeds (they have a powdery texture) I have no problem, and my immune system does not tag chia as gluten – I've tested it with blood work to know for sure. I wanted to make the effort to find chia seeds that worked for me because they are such an incredible SUPER food.  Chia seeds provide the maximum amount of nutrients with a minimum of calories, contain fiber, Omega-3 & Omega-6 essential fatty acids in the proper ratio (chia sees have more Omega-3 essential fatty acids than salmon!), calcium, antioxidants, protein, and much more.  In fact, with nearly 11 grams of fiber per ounce, chia seeds provide 42% of your recommended daily value of fiber in just one serving!  Chia also absorb up to 12 times its own weight and helps to curb appetite by filling you up quicker than foods with less fiber count do. This means you won't feel hungry as quickly.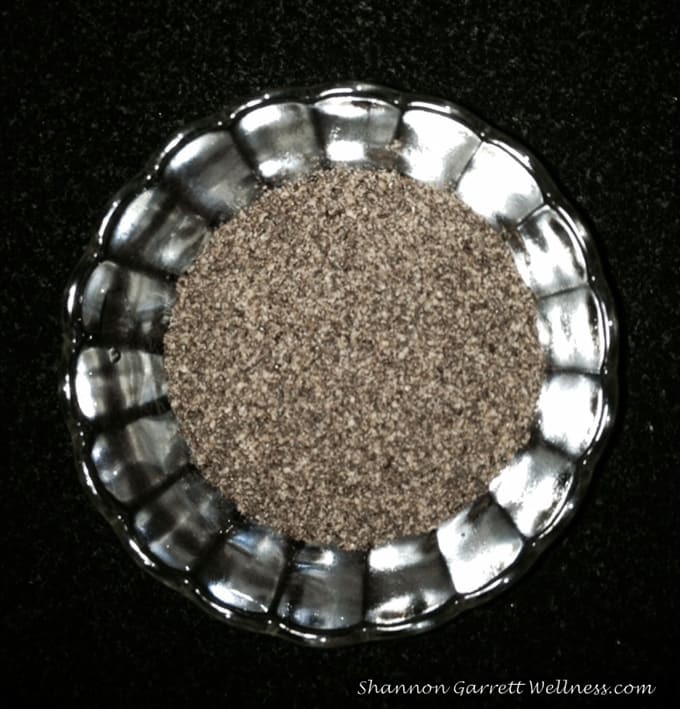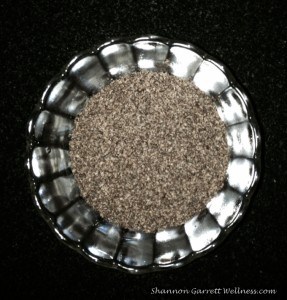 Cacao powder and Trufiber. Cacao powder is a rock star when it comes to nutrition.  It is rich in magnesium, iron, and full of fiber. Natural cacao tastes like bitter chocolate, but it's not chocolate per se and it certainly isn't cocoa.  The two don't even compare with cacao.  Cacao is the bean which cocoa is made from, and chocolate is made from cocoa.  Cocoa has no substantial health benefits to speak of and it usually has added sugar and/or milk.  Cacao, on the other hand, is very rich in flavonoids making it a powerful antioxidant.  It boosts cardiovascular health, is rich in iron, lowers high blood pressure, improves mood, and helps to keep you regular. The cacao powder I use is 100% pure cacao powder and is certified organic, kosher, non-gmo, gluten-free and raw. And speaking of being regular, TruFiber gives additional boost in that department if you know what I mean! However, TruFiber is not psyllium fiber (which is not gluten-free) and TruFiber contains live-active pre-biotics.  Just so you know, prebiotics are the "soil" for which probiotics grow and thrive (think food chain: probiotics need a source to live or else they'll die). Fruit. I generally always opt for frozen organic raspberries, blueberries, or cherries for smoothies. I like to use frozen because they blend up better and make the smoothie creamy and thick. Although I do support and use local fresh organic produce when available, I still believe frozen is best.  In fact, the term "cream of the crop" literally refers to the fact that only the best fruits or vegetables are selected first and then frozen before they are sent out to the market. Just ask a farmer.  Berries of any variety are very high in antioxidant content – just look at their deep, dark, rich colors as a clue to their health benefits. In a clinical study published in 2010 in Cancer Prevention Research, researchers found that raspberries have "chemo-protective" benefits because of the quercetin, ellagic acid and phenolic compounds they contain that have the ability to kill certain types of cancer cells including those of the colon, esophageal, liver, lung, tongue, and skin cancers, AND also preventing intestinal tumors by inhibiting their development by reducing inflammation.  No wonder I am mad for raspberries! Rich & Creamy. Gluten-free folks ought to stick with almond milk, coconut milk, or water as their base for smoothies. Rice milk is still a grain and is sometimes an issue if you are gluten-free.  Soy is not recommended for those who have a thyroid disease or concerned about prevention.  Soy is not thyroid-friendly because it inhibits thyroid function. It isn't the soybean in and of itself that is so bad – it's what happens during processing that changes its structure enough to be potentially harmful. In addition to coconut milk, something else I love to add SO Delicious Greek Style Cultured Coconut Milk Yogurt.  You can also add gluten-free organic almond butter, peanut butter, or a frozen banana to make your smoothie even more rich, dreamy & creamy – it almost feels like cheating but you're not!  Smoothies are one of the most healthy, nutritious, satisfying meals you can have while loving it at the same time because they are so quick, easy, and delicious. Smoothies are my FAVORITE on-the-go healthy meal.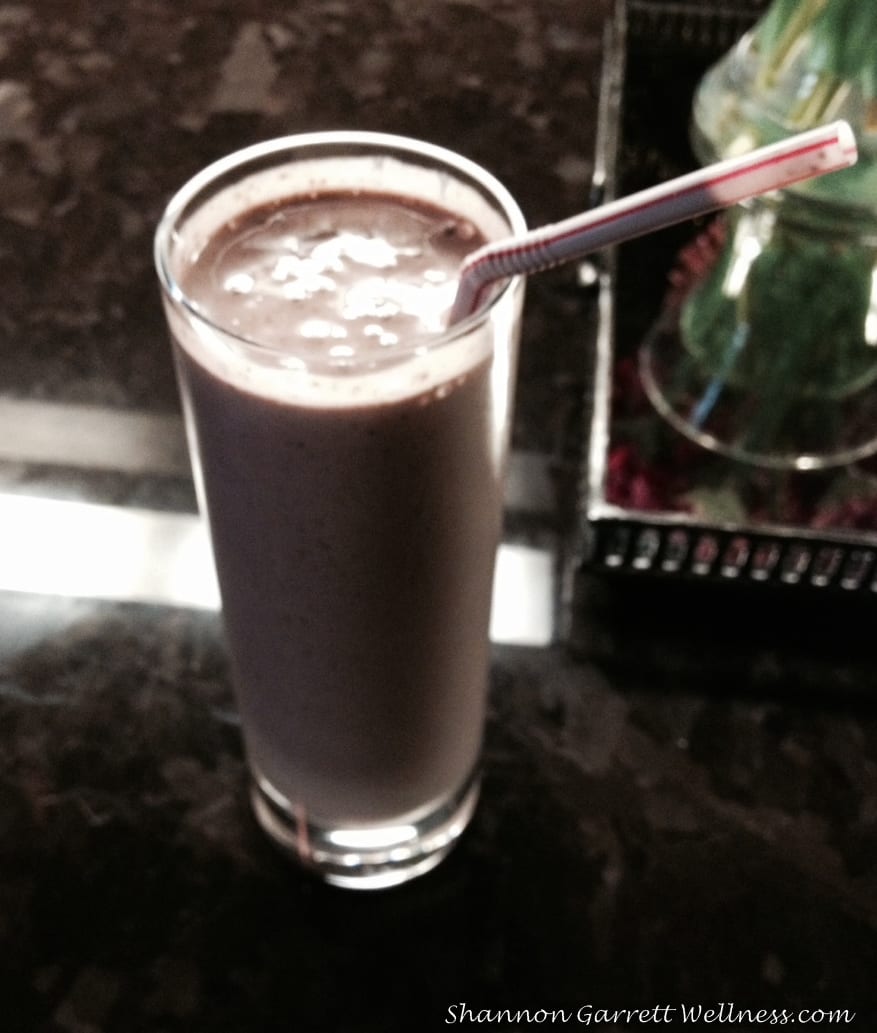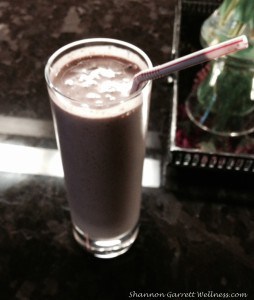 Shannon Wants To Know:  What's your favorite gluten-free nutritious meal when you are in a rush?