Do you ever find yourself feeling tired and needing a "pick-me-up" in the afternoon? Or, do you crave something chocolate to give you an energy boost? If yes, you will love this delicious yet healthy chocolate truffle! If complaints of afternoon thyroid fatigue are on most days of the week, be sure to speak with your doctor to rule out adrenal fatigue that may be driving you to need a boost to make it through your day.
Snacks that are satisfying and nutritious are what we all want and need! So try these easy-to-make truffles with energy boosting ingredients like maca, maple syrup, and coconut butter. One truffle is all you need to satisfy your taste buds!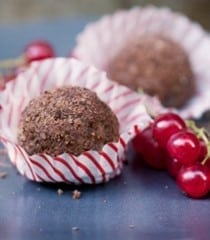 Ingredients
½

cup

raw Walnuts

divided

½

cup

Cacao Butter

melted

½

cup

Coconut Butter

softened

1/3

cup

Maple Syrup

¼

cup

Coconut Sugar

2

Tbsp

Maca Powder

1 ½

tsp

Vanilla Extract

¼

tsp

Sea Salt

½

cup

Sweet Cacao Nibs

divided
Instructions
Place ¼ cup of the walnuts in a food processor. Add the cacao butter, coconut butter, maple syrup, coconut sugar, maca, vanilla, and salt. Process until well combined. Add the last ¼ cup of walnuts and 2 tablespoons of sweet cacao nubs and process briefly to chop, but leaving a little texture. Spoon into a bowl and refrigerate for about 20 minutes to slightly harden.

Grind the remaining sweet cacao nibs in a spice grinder to form a coarse powder, and place into a small bowl. Use a melon ball scooper to form the truffle mixture into a ball, then carefully roll the ball in the cacao nib powder to dust the outer surface. Place on a plate, and repeat to form remaining truffles. Refrigerate the truffles for one hour longer to set completely, then store at room temperature.
Notes
Maca (Lepidium meyenii) is a rainforest herb and a member of the potato family. It is found exclusively in Peru and has been cultivated there for more than 2,000 years. Maca increases energy and supports the immune system. Good for anemia, chronic fatigue syndrome, impotence, fertility, menopausal symptoms, and menstrual problems. Maca's nutrient content is made up of amino acids, calcium, iron, magnesium, phosphorus, zinc, vitamins B1, B2, B12, and C.
Caution: People with liver or heart disease should avoid high doses of Maca, as it has been shown to worsen liver blood tests and raise blood pressure. Moderation is the key!