Coconut oil is the ultimate nourishing anti-aging dream cream! It's the perfect makeup remover, moisturizer, and cleanser.
Have you ever made your own skincare products? It's easy and when you use coconut oil you end up with your own luxurious, dreamy and reparative facial moisturizer in less than 10 minutes.
I struggled with "thyroid skin" for years…bumps, scales and extreme dryness.
This do-it-yourself whipped moisturizer is the most luxurious I've found and it promotes regeneration of healthy cells while keeping existing tissues healthy and preventing wrinkles. My favorite DIY homemade moisturizer repairs sun-damage and restores aging, dry, chapped, and/or cracked skin. By adding specific essential oils you will support the health of your skin with moisturizing and calming properties while toning at the same time.
Also, by adding specific antioxidants, you will help fight free-radicals which are extremely damaging to skin. All these benefits without a single toxic chemical or ingredient you can't pronounce which are so commonly found in expensive creams sold over-the-counter and in upscale department stores. I always say "if I can't eat it, it doesn't go on my skin." Not that I would want to gobble up my facial moisturizer, but I know if any were to accidentally be ingested I have nothing to worry about.
Did you know in a typical day most women are exposed to over 500 toxins from cosmetics alone?
Not to mention household cleaners, xenoestrogens, and pollution. When I was young, my dad worked in a chemical plant in the lab and a certain well known brand of expensive facial cream was one of their main clients. This high-end well known skincare company regularly purchased an ingredient which was used as a thickening agent in their popular facial cream. This same ingredient was also used to clean up toxic spills from concrete floors inside the plant! My dad always used to say "if women only knew what was really in that stuff they'd never buy it."
Unfortunately, millions of women today still believe it works and compromise health for beauty. It's no wonder autoimmune disorders in women are on the rise! Please understand something: what goes on, goes in. You absorb into the bloodstream anything you apply to your skin – and that can be toxic to your thyroid and immune system.

I love to use my magical homemade custom blend every evening and when I wake up in the morning on my face, neck, chest and soles of my feet. It can also heal burns and scars so I keep some in the kitchen drawer just in case. Coconut oil is a staple in my house. I keep a jar in my kitchen for cooking and supplemental use and one in my bathroom for hair, skincare, and oral care (oil-pulling).
Coconut oil has so many health benefits (too many to mention here) and it is fabulous for your skin and for thyroid health. It moisturizes, provides natural sun protection (my fair skin didn't burn a single time last year or this season and I attribute this to the use of coconut oil because I always burned very easy prior to using it), contains vitamin E, and medium chain fatty acids to strengthen skin tissues. It also helps remove excessive dead cells on the surface plus it is gentle and safe for the whole family.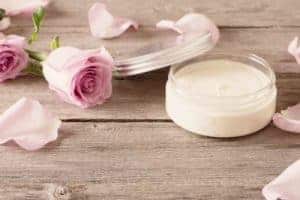 Coconut DIY Dream Cream
Best for anti-aging, thyroid skin conditions, wrinkle prevention, improving texture of skin, dry/chapped skin and/or lips, facial cleanser
Print
Pin
Rate
Ingredients
1

cup

virgin coconut oil

solid state

10

drops Frankincense essential oil

10

drops Myrrh essential oil

2

drops carrot seed essential oil

1-2

drops lavender essential oil

1-2

drops rose essential oil

3

drops rosehip essential oil
Instructions
Scoop coconut oil unto a large bowl.

Whisk/whip at high speed for 5 minutes until it's fluffy.

Add all essential oils and whip again until well-blended and to the texture that is easy to spread over your skin.
Notes
Enjoy the results! This also smells heavenly. I also like to use it on my feet at bedtime.
Let me know your results!
I like to use
this brand of coconut oil
for whipping up my facial moisturizer because it seems to work better for this purpose. If you have a professional mixer with a whisk it works like a charm and within minutes. I use a
professional KitchenAid stand mixer
with the whisk attachment. I also use high quality and pure ancient essential oils of Frankincense and Myrrh for their moisturizing, calming, toning, wrinkle preventing and anti aging properties. Frankincense also fades and heals scars and makes my skin dewy! Myrrh is a powerful antioxidant, promotes anti aging, and is great for chapped or cracked skin.
Many skincare products on the market today contain myrrh to benefit dry, mature skin but it's anyone's guess about the quality and quantity of the oil being used. Frankincense has been used for thousands of years to protect and repair skin tissues. Combined with coconut oil, my skin always looks healthy and glowing and I know it works because I receive so many compliments and questions like "what do you use on your skin?" Well, I'm sharing it now with everyone! And since I am a lady of a certain age I also like to add essential oils of carrot seed and rose as antioxidants to fight free radicals, protect my skin and to keep it healthy, young, and fresh looking. Lavender essential oil can also be added if you have oily skin, acne or eczema; or a just a couple of drops for its calming properties.
For gift giving, I love these small mason canning jars.
I don't always have the time to make my homemade skincare.
When I don't have all the ingredients on hand, there are certain products I love.
Since I never use water to clean my face (I learned this from both my grandmothers who both had drop-dead gorgeous skin), this is my routine:
To begin, I mist with Moroccan rose water that I keep in a spritzer bottle, and then apply this brand of plain extra virgin coconut oil to gently remove my makeup or the previous nights cream & oil with a soft cloth. Then, I apply a tiny amount of this pomegranate serum which I love to protect and repair the delicate tissue around my eyes. The next step is to dab on my custom-made regenerative dream cream everywhere else including my face, neck, and décolletage.
I also like to apply it to the soles of my feet before bed and put on cotton socks. Finally, I top it off with a spritz of 1/2 rose water and 1/2 witch hazel.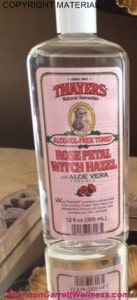 During the dry, winter months, I'll dab another layer of this rose cream or pomegranate firming cream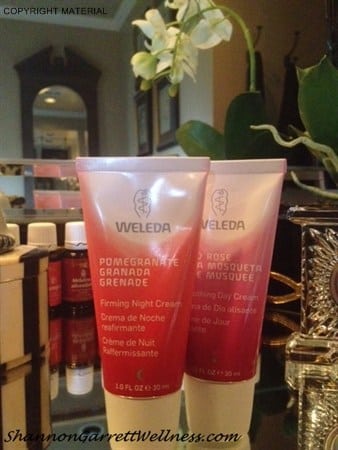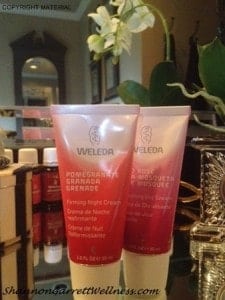 before bedtime for additional moisture and healing.
Even though I allow a little bit of sun on my exposed fair skin including my face anywhere from 8AM to 10AM in the morning hours mainly for the vitamin D benefits, I otherwise protect myself from the sun by using a homemade coconut oil sunscreen and donning a large brimmed hat. My grandma used a parasol in her day – she was such a smart lady!
In case you didn't know, a vitamin D deficiency can contribute to aging of the skin, cancer, and many chronic disease states therefore, moderation is the key. Too much is not a good idea, nor is being hyper-fearful of the sun to the point you're not getting any exposure at all. I must have some exposure to the sun due to the fact that I have Celiac disease and don't absorb supplemental vitamin D well at all. But I do it responsibly and safely and you should too.
Nutrients for Gorgeous & Healthy Skin
To this point I've shared everything I do externally for the health of my skin. We must not forget that what we take internally, whether it be food, drink, or supplements either supports or compromises the skins structure and can provide protection through antioxidants. Zinc Supreme in particular supports tissue strength and repair and includes anti-stress & anti-aging B vitamins. If you have difficulty absorbing zinc (due to Celiac disease or Leaky Gut Syndrome) try this liquid zinc called Zinc Challenge. Copper is also needed for collagen production and healthy skin – it is needed to balance with zinc since these two minerals have an inverse relationship. Vitamin C with bioflavonoids is necessary for the formation of collagen, a protein that gives the skin its flexibility. It also fights free radicals and strengthens the capillary beds that feed the skin. I also eat a well-balanced anti-inflammatory diet with lots of raw fruits and veggies, essential fatty acids, and vitamin A-rich foods. But the one thing that I think elevates my overall anti-aging routine is water. I drink a gallon of water every day and have for years…just ask my husband. You should drink at least 2 quarts every day even if you don't feel thirsty. Water helps to keep the skin hydrated and flushes away toxins, discouraging the formation of wrinkles. I like to add the juice of an organic lemon, slices of English cucumber or oranges. A couple teaspoons of Bragg's apple cider vinegar is a great detoxifier too.
Zinc should be taken in the evening before bedtime, and copper in the morning.
So, there you have it…this is my personal anti-aging regimen for healthy glowing skin. Do everything I've shared and you will start to notice a difference in the way your skin looks and feels. After a couple of weeks, you may start to receive extra looks and compliments on your skin or prodded about what you're doing different. Pay it forward and share…I just did!
GOOD LUCK and go get GORGEOUS…and forget about thyroid skin.
https://twitter.com/AutoimmuneRN/status/486560716497747968