This gluten-free, thyroid-friendly and weight loss supportive recipe is new from the Spring Hashi's Sister's Jumpstart and contains rhubarb for its amazing health benefits and liver support.
Rhubarb is well known for the following benefits:
Aids with weight loss
Supports digestion
Reduces the risk of cardiovascular disease
May prevent cancer and macular degeneration
Stimulates bone growth and repair
Stimulates the production of red blood cells
Helps prevent Alzheimer's disease
The recipe also contains strawberries – and since they are cooked along with the rhubarb it's perfectly safe for thyroid health.
I recommend that you enjoy these Pancakes with Rhubarb Compote, ASAP because they're absolutely delicious!
An remember, we don't count calories, when it comes to thyroid health, we count chemicals 🙂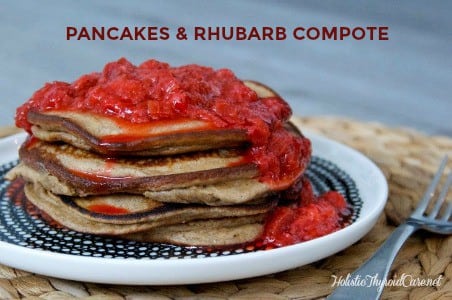 Ingredients
3

Bananas

2

Eggs

1/2

cup

almond butter

2

teaspoons

cinnamon

1

teaspoon

vanilla

Dash of sea salt

1

Tablespoon

coconut oil
Instructions
Combine all ingredients except oil in a blender and blend until smooth. Heat coconut oil in a skillet over medium heat. Pour 1/4 cup of pancake batter on skillet and cook until lightly browned. Flip over and cook the other side until lightly browned. Serve with Rhubarb Compote...see recipe below.
Rhubarb Compote
2 stalks rhubarb, chopped

1 pint strawberries, chopped

Zest and juice of 1 lemon

Cook all ingredients over low-medium heat until fruit is softened and "jam-like" consistency approximately 15 minutes. Add a little water if necessary.