Persimmon Pomegranate Salad
Now that fall is almost in full swing and persimmons are available our persimmon pomegranate salad is a delightful dish to share with friends and family.
I remember when I was a little girl there was a lady who lived across the street from my home and she had a large persimmon tree in her back yard. Back then, I thought all the fun was in stepping on the persimmons as they fell to the ground! I loved their unique scent and to this day I still remember that aroma and it always makes me think of childhood memories during the fall season. Little did I know then the health benefits of persimmons. But the lady who owned the tree did; she regularly gathered the fallen persimmons in a basket to make pies or for canning.
If you don't have access to fresh persimmons they can be found in the grocery aisle as two types: the Fuyu and the Hachi ya. The Fuyu can be eaten raw and is best when it is firm (like an apple) whereas the Hachi ya is similar to the shape of an elongated tomato with a pointed bottom and is best eaten when it is soft.
With only a few simple but select ingredients you will love sharing this persimmon pomegranate salad as it is perfect for a special event (I'm making it for an upcoming progressive dinner in my neighborhood) or to whip up for a quick healthy side dish anytime you're in a hurry.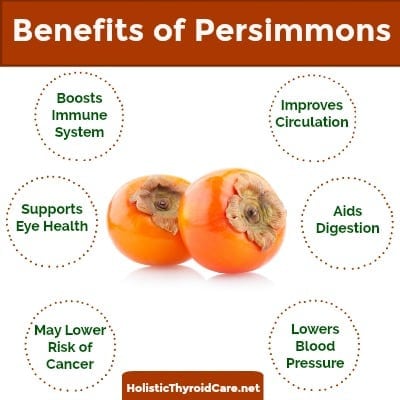 I love to surprise my family and friends with a persimmon pomegranate salad along with a bowl of soup to ring in the fall season. What's your favorite fall salad or soup recipe?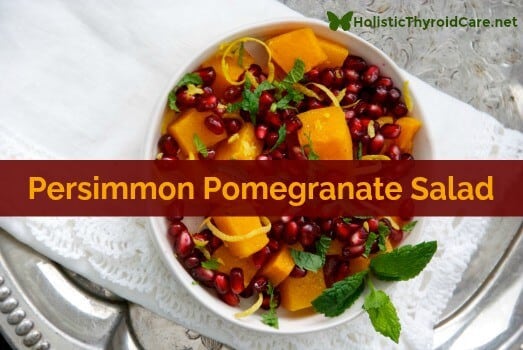 Ingredients
1

Persimmon

chopped

1

Pomegranate

seeded (or 1 container of pomegranate arils)

Juice and Zest of 1 lemon

Fresh mint

chopped

Salad greens of choice

Goat cheese

crumbled, for garnish (optional)
Instructions
Mix all ingredients (except salad greens) in a bowl and drizzle with olive oil.

Add fresh salad greens to (2) plates

Top salad greens with persimmon pomegranate mix

Add goat cheese crumbles if desired

Enjoy!
Additional Recipes You Might Enjoy