Is your liver sluggish? Are you experiencing any allergy-like symptoms or hormone imbalance?
These can be signs that it's time to support your liver by giving it a little love.
This beet ginger juice smoothie is actually quite delicious and it's perfect for detoxing and supporting your liver.
The health of your liver has a lot to do with how well you convert thyroid hormone, maintain hormone balance and a lot more.
Beets are known for their amazing health benefits:
Rich in minerals and potassium for heart health
2 cups of beet juice daily may help keep blood pressure in check
Boosts stamina
Reduces inflammation related to obesity and autoimmune disease, including Hashimoto's
Beet juice fights free radicals
You can expect to feel lighter, notice less tummy bloating, clear eyes and skin – and more if you drink this juice every day throughout spring.
What woman doesn't want those things?
There's no excuse NOT to give beet juice a try – and this is the perfect blend.
Don't like beets? It's OK!! Try a red pear instead…it's wonderful!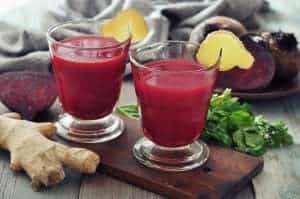 Ingredients
1/2

Beet

raw, peeled & cut into chunks (may use a red pear instead if preferred)

1

handful fresh parsley

1

handful fresh baby spinach

2

leaves

fresh kale

stems removed & lightly steamed

1/4

cucumber

peeled & roughly chopped

1/2

lemon

freshly squeezed

1

cup

almond milk

unsweetened

Stevia or local honey

if desired

1

Tablespoon

flax oil

Fresh ginger root

peeled + extra slices for garnish

Ice cubes
Instructions
Add ingredients to a high-speed blender and blend well.

Garnish with ginger slices for extra anti-inflammatory & gut healing benefits.

Enjoy immediately. Juice will last in fridge up to 24 hours.
Notes
This juice-smoothie takes a few minutes to blend because of the beets, so give it a good blending!
If you don't have a high-power blender, cook the beets first.
If you prefer not to use beets, try it with a red pear instead.
If the consistency is too thick for your preference, simply add a little water while blending.